First thing's first:
Edit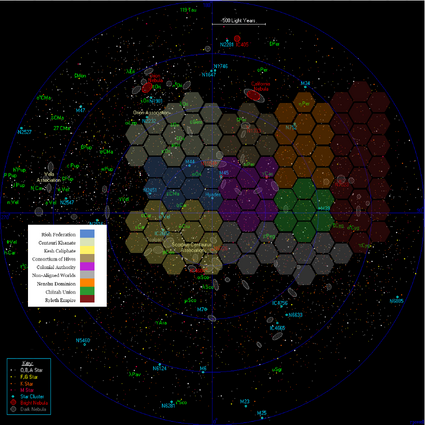 Major Powers
Edit
Major Sophonts
Edit
Commonwealth Species
Edit
League Species
Edit
Drekar - Bipedal lizard isolationists on the Centauri border.
Unaffiliated Species
Edit
Ryleth - Xenophobic octopodes who can sense probabilities and walk on their tentacles.
Lethan - Primitive plant life with the ability to manipulate others through their spores.
Scarab - Cybernetic parasitoid arthropods who reproduce via forceful implantation of larvae.
The Dentraddi - Name given to the unknown aliens believed to have wiped out the Sol system.
Characters
Edit
Campaign Journal
Edit
House Rules
Edit
Locations
Edit
Major New Religions
Edit
Human
Nonhuman
Dahanism | Ryleth
Niirinrishii (The Truth of the Eternal Way) | Hissho
Niirintsolyani (The Truth of the Celestial Court) | Hissho
Segran-Jahal | Birrin
Non-Religious Xenomorphs
Extraterrestrial Folk Religions